Aerospace
Flock Development & Research has developed specific products to help resolve issues in the aerospace industry.
Rolls Royce approached us to help develop an accurate applicator to clean and lubricate engine parts. When serviced, Rolls Royce engines have to be taken apart, cleaned, lubricated and put back together.

They were having great difficulty to find an applicator that would apply the exact amount of lubrication. It was a critical process because over lubrication could cause major problems with engine performance. We developed a non abrasive cleaning and dry film lubricant application kit for the full range of Rolls Royce engines that are in service with airline fleets.
Airbus UK approached us to help develop an applicator that would coat the difficult to reach, ribbed parts of aeroplane wings. We developed a special applicator with high solvent resistance for areas of the rib sections of the Airbus 380.
We have more recently developed special 25cm rollers to coat the massive blades on wind farms across the world.
Take a look at some of our other products.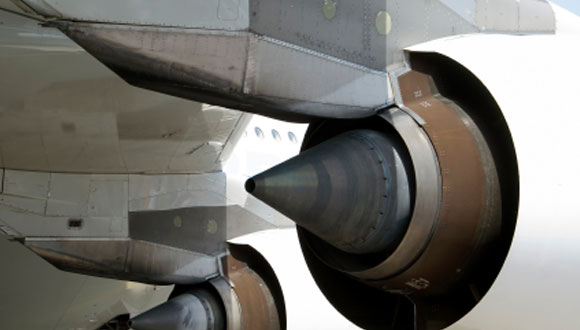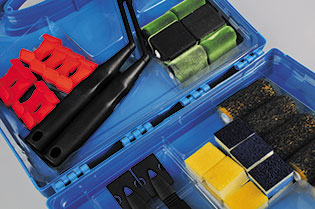 Flock Development & Research have developed a speciality flocked paint pad applicator for GKN AEROSPACE that is designed to paint difficult to reach areas specifically the ribs in the wings of the aircraft.
The applicator uses a highly technical reticulated foam that can work with aggressive liquids without distorting and is electrostatically coated with a short nylon fibre that achieves a perfect finish.
The same material is used in the manufacture of flocked rollers which are the global industry standard for painting/coating wind turbines blades.

GKN Aerospace

GKN Aerospace designs and manufactures complex, high-performance, high-value integrated metallic and composite assemblies for aerostructures and engine products as well as glass, acrylic and polycarbonate transparency systems.
Substantial investment ensures GKN Aerospace is at the forefront of technology delivering real and practical benefits to our customers. Partnering with the world's major airframers and engine OEMs, we deliver competitive advantage through advanced design and manufacturing that provides best value and enhanced performance: advantages which retain our position as a world leader in aerostructures, engine products, nacelles and transparencies. All products are backed by GKN Aerospace's comprehensive and responsive aftermarket service.
GKN Aerospace is committed to delivering excellence across its business. Through ongoing investment in development of our employees, our technologies and our customer programmes, GKN Aerospace is well positioned to continue the strong growth it has achieved in recent years.
The GKN Aerospace advantage:
Advanced manufacturing:
High rate processing
Flexible manufacturing
Energy efficient system
Low cost solutions
High performance aerostructures:
Improved performance
Multi-functional structures
Integrated structures
High performance engine structures
Weight optimised structures
Performance improvement
Environmental technologies
High performance transparencies
Improved stealth capabilities
Improved optical characteristics
Improved